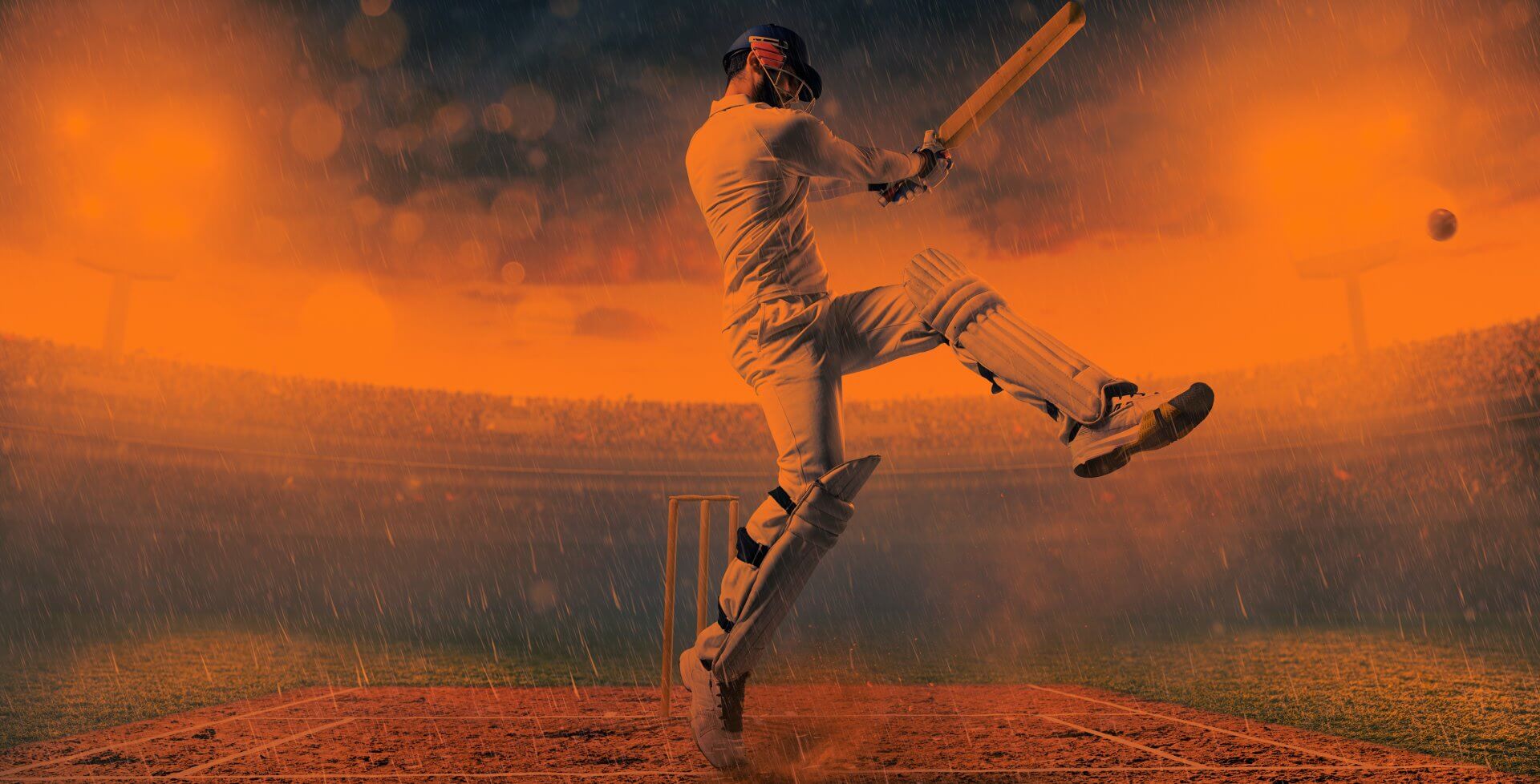 Test Cricket Betting Guide
Test Cricket Betting Guide
Anyone who considers themselves a 'cricket purist' will always consider Test match cricket the ultimate format of the sport. This type of cricket match is played by the very best international cricketing teams (the 12 countries that have been given Test status). They are scheduled to take place over five days and during this time, they can provide an ebb and flow that is seen in no other sport out there. It is for this very reason that cricket lovers adore betting on Test cricket at their favourite cricket betting sites.
The Best Test Cricket Betting Sites 2023
All of our recommended online cricket betting sites will offer the best cricket odds on different test matches, a variety of sports betting markets and in-play markets and are fully licensed and regulated by the UK Gambling Commission.
If you are thinking about making a bet on Test cricket matches, then you will need to think about what cricket betting strategy you will use – as it will be very different from T20 and ODI match strategies. That's exactly why we have created this page – giving you the ultimate guide to betting on Test match cricket betting – so you can start making those bets with confidence!
Test Match Cricket Betting Tips and Tricks
Anyone looking to bet on Test cricket will try to work out what a decent score is. However, in reality, it's practically impossible to know anything until both teams have taken their turn to bat. As such, it's not a great idea to make any quick decisions about the team that bats first or to start trying to analyse why it is that they only managed to make 180. Was it down to the poor batting performance or was it because the bowling was very accurate and skilled? Was it anything to do with the state of the pitch, making it tougher for the batting side that will affect the opposition team also?
Really, looking at the raw statistics and numbers won't give you the full picture of the Test match and what is happening. The good news is that there are plenty of things you can do to increase your chance of making winning bets on Test cricket matches.
Watch The Test Match as it Happens
It may be that you watch it live on television or you might choose to watch it on a cricket betting site that offers live streaming. If you don't have access to sports television sites that broadcast the matches, if you make a bet at some of the top Test match betting sites, they will give you access to the match via live stream. Because sometimes it is important to actually watch the action to fully understand what's happening with the scores – and why the scores are what they are.
It may be that you notice a team has hit a huge score in a specific innings. You will have to try and work out why that was… was it because of excellent batting conditions? Was it because of an impressive batting performance from one or two particular players – or was it a mix of both of these reasons? A great score could be achieved for a number of different reasons and you need to figure out what.
Obviously, it's easier for you to know what led to that score if you have watched the action as it happened. Some of our very best recommended Test match betting sites will offer the opportunity to live stream a whole selection of cricket matches, so you can watch the ones you're interested in making bets on. Simply sign up for a new account, make your bet and watch the match as it happens!
Look for the Best Value In-Play Test Cricket Match Bets
Despite the fact that a Test cricket match can last for up to five days, everything can change in just a moment. If you are watching the match play out, then it will be easier for you to make more informed in-play bets and find the best in-play betting opportunities, especially if you keep a close eye on the live odds for the match as you are watching the match.
So, for example, an experienced cricket punter may be more interested in the live betting odds when there is a new ball which is about to be introduced into the game. A new ball will be introduced into a match after every 80 overs. This often works in the favour of the bowling team as newer balls generally move more. However, on the other hand, it may be that the new ball suits the batting team more if there are other conditions which favour the batting side. It can be a lot easier to make clear and concise contact with a new ball compared with older and more game-worn balls. Sometimes you may find that the cricket betting site doesn't factor in the new ball when updating odds and this is where you might find an edge as a bettor.
This is one example of how you can use your knowledge of the game with live betting markets to get an edge over the betting site – and the more experience you have, the more opportunities you will find. So, when looking for Test match betting sites, you should look for those that offer the best in-play betting markets first all. Read our reviews to see how they compare!
Check the Ground Conditions and Weather Forecast
The condition of the pitch and the predicted weather forecast are hugely important factors in Test match cricket. If the weather is overcast, then the conditions will work well for swing bowlers. If the pitch has good grass coverings then it will help seam bowlers. An example of this is when Ireland took on England in 2019. Ireland had been set at 182 at Lords to beat England. They then came out to bat, with overcast and dull skies, perfect for swing bowlers. Chris Woakes and Stuart Broad came out swinging and bowled out the team for 38. Under such weather conditions, it would be difficult for any team to even get close to the win on a day such as that.
Cricket pitches vary a lot all over the world. Pitches in India and the Indian subcontinent will normally have less grass covering. This would work well for spin bowlers and not so well for seamers. Meanwhile, Australia has many fast and bouncy pitches, with the Sydney Cricket Ground pitch being very friendly to the spin bowlers. Teams playing here will usually choose two spinners. However, recent matches have shown that these days it is more batter-friendly.
As the Test match continues, pitches will often wear, with cracks appearing and this can help spinners, prompting variable bounce. If the ball hits a pitch crack it may stay low, making it practically impossible to play. In addition, a patch of rough from a fast bowler's follow-through may help slower bowlers as the ball grips and turns out of the areas.
Often, the team that bats last on the final day of the Test match will find it hard-going if they are playing against a team that has a decent quality spin bowler.
When England toured India at the start of 2021, an Ahmedabad pitch that was turning saw the spin twins Ravi Ashwin and Axar Patel tear the visitors apart. During the first two tests played on the pitch, the English spinner Joe Root took 5-8. He said that this 'summed up the wicket' and the match was done in five sessions.
So, when you're thinking about betting on match results, you should look at which team is batting last and the strength of their spin department. Even a score as low as 160 can be difficult to chase if the pitch is deteriorating and they are playing against good, slow bowlers. Quick bowlers can also be difficult opposition because of variable bounce.
We also need to mention that there is also the chance that rain might stop play in Test matches. Although they will make the effort to make up for any lost time, this can have a massive impact on the game because if both teams fail to complete their innings within the match schedule, it will be declared a draw.
The Importance of the Coin Toss
It may seem like a small thing, but the outcome of the coin toss can have a massive effect on the match result in Test cricket. If, for example, the pitch looks as though it may start to deteriorate, then the captain might opt to bat first. This will give the players the advantage of starting on the cracked and damaged pitch. However, if the team has a lot of good-quality swing bowlers and the weather is forecast to be cloudy and overcast, then the captain might opt to bowl first and take advantage of the excellent swing bowling weather conditions.
Ultimately, betting on Test cricket is about looking for all different factors that might affect the game, so you should check the game odds before and after the coin toss so that you can try to work out what the captain of the team that wins the toss might be thinking. Often, TV cricket experts and pundits can be helpful here – and you may even notice a significant movement in the cricket odds based on who wins the toss.
Research The Team's Previous Test Cricket Form
Anyone that has bet on any type of sport before will know that it is very important to study the team's form before making any type of bet. You need to research the team and players thoroughly. See how both of the teams and their squads have been performing recently, You also need to take into consideration the conditions and environments of these games as well as the results.
Fortunately, these days, cricket bettors can access more numbers and statistics quicker and more easily than ever. There are all sorts of websites that provide you with information and statistics – and even match predictions by cricket statistic experts. Finding cricket tips for specific Test matches is normally pretty easy, but you will need to make sure that these tips are backed up by form before you make your bet.
If you want to find your feet and get your bearings first of all by making a free bet, then check out some of our top Test cricket betting sites for free bet offers. You can find some excellent offers for free bets after you have done your research!
What You Need to Know About Test Betting
Although Test cricket doesn't necessarily offer the action-packed and fast-paced action of ODI betting or Twenty20s, it doesn't mean that it doesn't offer cricket bettors some exciting opportunities. There are all sorts of different betting markets even before you get to in-play bets or betting on the coin toss.
Generally, these days batters are likely to take more risks than previously because of the increase in popularity of T20 games (used in tournaments and leagues such as the ICC Cricket World Cup, Indian Premier League and Pakistan Super League). This, in turn, has led to bigger scores and more wickets – which means more results than previously. As such, Test matches rarely go into the final, fifth day as batting collapses and innings defeats are much more common now.
When watching a Test match, we always hope that it will be an equal match between the bat and the ball. The biggest difference between limited overs cricket and Test matches is the emphasis placed on wickets (preserving and taking wickets) over runs. Although 25 runs in an over could prove to be decisive in a limited overs cricket match, it won't really have much of an effect in a Test match. Conversely, a hat-trick (when a bowler takes three wickets with three consecutive balls) in a Test match would be a complete game changer!
Another major factor to consider in Test match cricket is the captaincy. If the captain is aggressive, they will likely go for outright victory over a draw. This could see them using more attacking field settings or declaring sooner so that they can move the game along more quickly.
If the captain is more defensive, then they might choose to build up more runs in order to rule out the chance of a loss – although it will probably also reduce their chance of an outright win. Knowing how the team skipper will deal with a situation within a match is vital when trying to work out how the match will go.
Test Cricket Betting Markets and Betting Odds
There is a huge selection of betting markets you can enjoy before the Test match even starts – so let's take a look at the most popular Test betting options:
Winning the Coin Toss: You are simply betting on what team you think will win the toss of the coin before the match starts.
Match Winner Bets: There are three outcomes – Team A winning, Team B winning or a draw. You will be given the odds for all three outcomes. The very best Test match cricket betting sites will also offer the market Draw no Bet (DNB), which means that if the match ends up being a draw you will get your money back. Many also offer Double Chance bets, which covers one team winning or a draw.
First Innings Lead Bet: This is a bet on which team you think will be leading after the first innings. Some betting sites will also offer odds on a tie, whilst others will apply the dead heat rules (where a tie is a losing bet).
The Highest Opening Partnership Bet: You are simply betting on which team you think will have the highest opening stand for the first innings. 
Method of First Wicket Bet: There are around six methods of dismissal that will be priced up: bowled out, caught out, LBW (leg before wicket), Stumped Out, Run Out and possibly others. When the first wicket falls, this bet will then become a Method of the Next Wicket bet. Some bookies may even make it a 50-50 two-way market such as Caught out or Not caught out.
The First Ball of the MatchBet: This is a bet on what you think will happen with the very first ball in the match. It includes options such as each run score possibility, dot ball, wicket, wide, bye or leg bye, no ball etc.
First Over Runs Bet: This is normally an over/under bet type. The bookmaker suggests a certain number of runs and you bet on whether you think the tidal runs in the first over will be over or under that number. 
Score after the First Wicket Bet: This is another over/under type bet – a bookmaker will suggest a certain number of runs and you choose whether you believe the total will be over or under that number.
Wicket in First Over Bet: This is a 50/50 yes or no wager. Will there be a wicket in the first over or not?
Top Team Run Scorer or Wicket Taker Bet: You are simply betting on which player you think will be the top run scorer or the top wicket-taker in the team during the first innings. Normally in this instance, the dead heat rules will apply for a tie. A bookmaker may also offer odds on players scoring 50 or more in the first innings or even 100 or more.
Top Bowler: There are some Test match bookmakers that offer bets on top bowler instead of top wicket-taker. This means that instead of a dead heat happening when two bowlers take the same number of wickets, it will then be decided on which bowler conceded the fewest number of runs. Make sure you understand the differences before choosing which bet you choose.
Player Performance Bets: Specific players will be priced up on over and under odds based on what they manage during the match. This point system consists of 1 point for every run scored, 10 points for a catch, 20 points for a wicket, and 25 points for stumping a player out.
Scoring a Century/Hundred In the Test Match Bet: This is a yes or no bet on whether you think a batsman will score a century in the match. Some also offer cricket betting odds on half a century (50) at much lower odds.
Player of the Match: This is a wager on who you believe will be awarded the official Player of the Match title when the Test match has come to an end.
Test Match Cricket Betting Rules
As we stated above, the top run-scorer and wicket-taker wagers are usually only based on the results of the first innings. However, some of the best Test match betting sites will offer markets for match runs for a certain batter.
In addition, bets are voided if fewer than a set number of overs have been possible because of external factors such as weather. These rules tend to vary between the different betting sites, so make sure you check them first. Also, as previously stated, the dead heat rules will apply in most match bets if the price for a tie hasn't been given.
You will find a wide selection of futures bets and ante-post bet markets as well, which include wagers on:
The overall series score
The top run-scorer or wicket-taker in the team
The top run scorer or wicket-taker in the series.
Many of the bet types are similar to those on offer for ODIs and Twenty20 matches and tournaments such as the International Cricket Council T20 World Cup etc.
The Basics of Test Cricket
If you are interested in Test Cricket, then it's always good to know the basics of it before doing anything – not only is it helpful, but it's also interesting.
The first ever Test match was held in 1877 between England and Australia. Test match cricket was the only form of international cricket matches up until 1971 when One-Day Internationals were introduced. In more recent years, we have seen the introduction of T20 – and this has seen some challenges for the Test cricket community because newer cricket fans tend to be more attracted to the faster pace of these matches.
However, the hardcore, old-school cricket fans still follow it fervently – and tournaments, such as The Ashes played between England and Australia always generate excitement and fervour – with Ashes betting still remaining hugely popular.
As we stated earlier, Test cricket matches are only played between international teams and they are scheduled to be played over five days. Both the teams are scheduled to bat twice, with the coin toss deciding which of the team goes first. Unlike limited overs cricket matches, there aren't any fielding restrictions apart from the rule that there can't be any more than two fielders placed behind square on the leg side. This is to prevent the use of bodyline tactics or short-pitched bowling which was famously used by England when they played Australia back in 1932.
Each day of play consists of three sessions, each lasting two hours. The match is played with the traditional red cricket ball, which offers bowlers excellent movement in the air. For home matches, the England team uses the Dukes ball. This is a brand of cricket ball that has a more pronounced seam which offers movement off of the pitch and is more helpful to the boilers compared to the SG balls and Kookaburra balls used in other countries.
Unlike limited overs matches, a team is allowed to declare if they believe they have scored enough runs or have decided that they want their bowlers to attack the opposing team's opening batsmen. One hour at the final session of the day is long enough to take a few wickets – which could tilt the match.
If the team that bats second can't manage to get within 200 runs of their opponent's first innings run total, then the leading team can make them bat again. This would mean that the team that bats first would also bat last and chase the total score – unless the team that follows on can't at least draw level and goes on to suffer an innings loss.
If, when the fifth day has ended, neither team has managed to win (for example, the team that bats fourth – or third of there's a follow-on – hasn't been bowled out or passed the winning total) then it is declared a draw. If the team that bats last is bowled out with tied aggregate scores then the match is also declared a tie. This is extremely rare, however, and has only happened twice in the entire history of Test cricket.
So, there you have it – everything you need to know about betting on Test cricket! Hopefully, you're ready to get started and try out some of the best Test cricket betting sites today.